Rajasthan is India's largest state, also famous on the name as the "Land of Maharajas." It encompasses an area of about 342239 sq. km. There are many magnification forts of Rajasthan which showcase the abundant heritage of this state.
The state still shows its history, pride, and bravery worldwide through its forts. Every fort stands with its own unique story. This royal state's lively culture and rich legacy draw in numerous travelers worldwide.
Additionally, visiting one of these posts is an absolute necessity if you are in the state. This state is wealthy in legacy and notable landmarks.
Further, this region is rich in cultural heritage and historical monuments. The forts of Rajasthan have fascinating stories to tell, and you will be able to learn a lot about the region's history.
Moreover, the state government is working to retain the beauty and charm of all forts of Rajasthan.
10 Famous Forts of Rajasthan
So, here are the 11 forts and palaces in Rajasthan to include in your list for your Rajasthan tour packages.
Amer fort, Jaipur
Mehrangarh Fort
Jaisalmer Fort
Ranthambore Fort
Chittorgarh Fort
Taragarh Fort
Gagron Fort
Kumbhalgarh Fort
Junagarh Fort
Neemrana Fort
Amer fort, Jaipur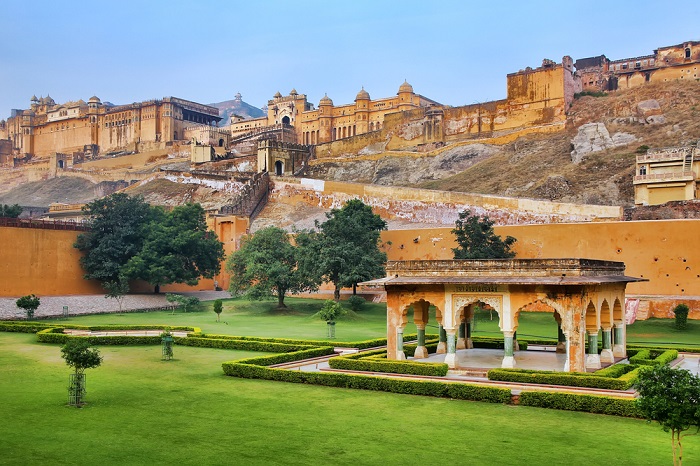 This fort was built in the 16th century by Maan Singh, a trusted general of Akbar, located in Jaipur city. Further, you can see the Mughal style of design made by red sandstone and marble.
Hence, the forts of Rajasthan are a must-see to explore more about Rajasthan.
Entry fee: Rs 100 per person for Indian citizens and Rs 10 per person for Indian students |
Rs500 per person for Foreigner
Rs 100 per person for international students.
Timings: Morning 8:00-evening 6:00 | Light show: Evening 7:00-9:00 pm
Nearby places: Jal Mahal, Nahargarh Palace, and Hawa Mahal, City Palace Jaipur
Mehrangarh Fort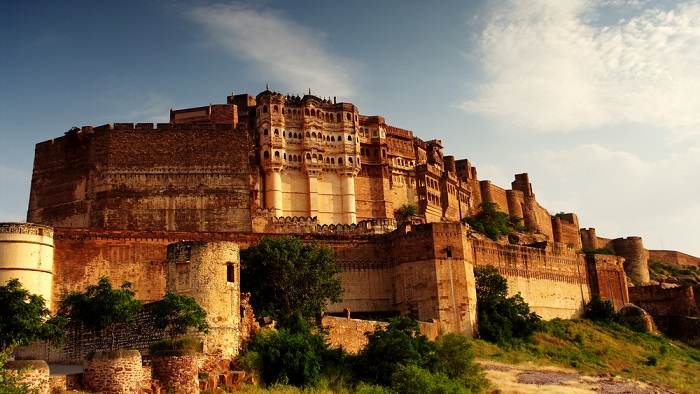 From Mehrangarh Fort, you can see the blue city of Jodhpur from a height of 125 meters. Yet this fort is ancient still you can see the creativity and history of Jodhpur. The signature interiors, seven massive gateways, and great design make it among the famous forts of Rajasthan.
Entry fee: INR 70 per head for Indian citizens | Rs 600 per person for Foreigners
Timings: Morning 9:00 to evening 5:00
Nearby places: Umaid Bhavan, Kaylana lake, Jaswant Thanda, etc.
Jaisalmer Fort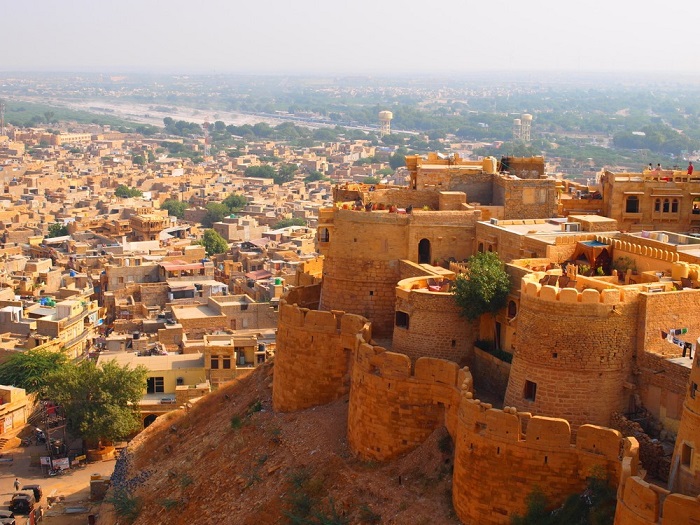 This Jaisalmer is one of the largest forts in India, was constructed by King Rawal Jaisal back in 1156 AD. Some other names are given to this fort by their local people, like Sonar Quila or Golden Fort. Moreover, this fortress is situated 76 meters over the city. So you may view this fort from every nook of the Jaisalmer.
Hence, ensure you visit this fantastic fort of Rajasthan.
Entry Fee: None But if you have a camera, you have to pay 50 rupees and 100 rupees for video shooting.
Timings: Morning 9:00-evening 6:00
Nearby places: Bada Bagh and the Haveli of Salim Singh.
Ranthambore Fort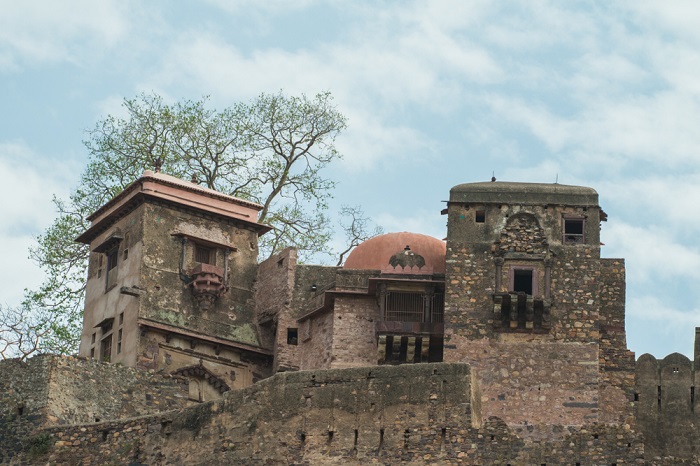 You can find this fort in Rajasthan's National Park.
However, many parts of that were ruined after the Mughals and Britishers' attack. Apart from enjoying these beautiful views of the forts of Rajasthan, also you can do the jungle safari and add an adventure element to the trip.
Nearby places: Kachida valley, Jain temple, Malik Talao
Chittorgarh Fort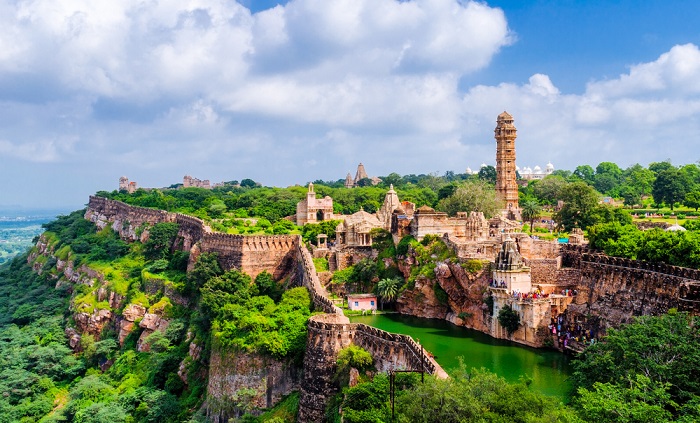 This is perhaps the oldest fortification developed before the seventh century. The fort is at 180 meters high slope and spread across 700 acres.
Further, this fort has been destroyed thrice by different rulers, but still, you can enjoy the impressive architecture. Also, some more places are there to visit.
Such as Meera temple, Padmini's palace, etc. Explore all the places by adding this to your visit list.
Taragarh Fort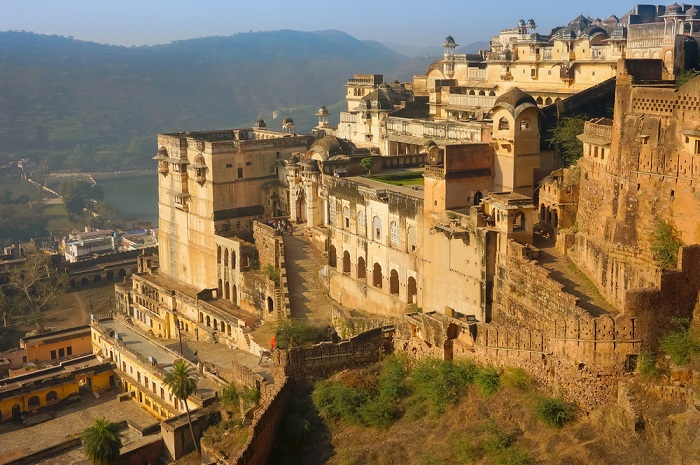 This historical spot was the site for military operations during the Mughal time. Moreover, this is a complex fort with hidden tunnels and three main gateways.
Hence, this is among the most famous forts of Rajasthan.
Entry Fee: None
Timings: morning 9:30 to evening 6:30
Gagron Fort
This fort features its beauty by sitting on a hill in the middle of a river and the only water fort of the state.
Further, you can see the fort's architecture with a pure Rajasthani style.
So, ensure visiting this famous fort in Rajasthan.
Kumbhalgarh Fort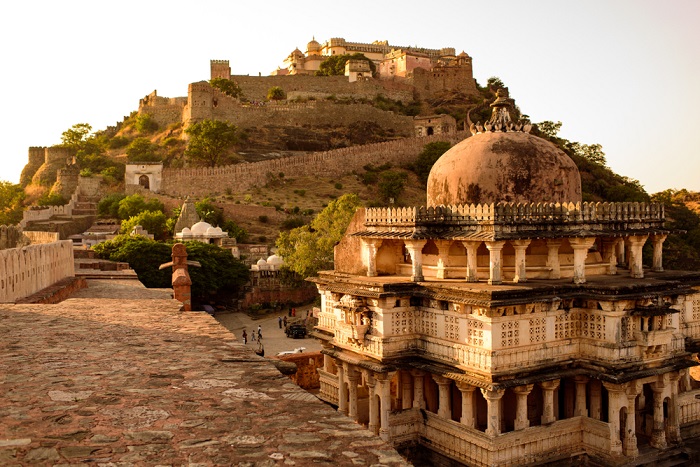 Kumbhalgarh, popularly known as the Great Wall of India, is a Mewar fortification located on the western slope of the Aravalli Hills. Additionally, it is the world's second-longest wall, following China's Great Wall.
Hence, this is amongst the must-visit forts in Rajasthan.
Moreover, if you are in Rajasthan, don't miss visiting this fort and having a luxury stay by booking your accommodation in the luxury hotels.
Neemrana Fort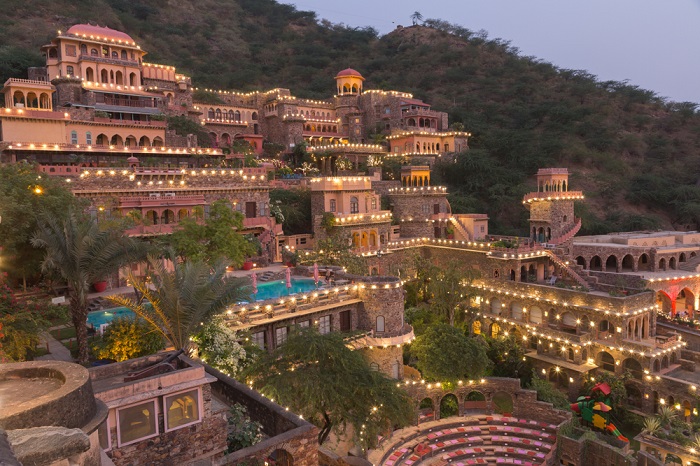 This fort is amongst India's oldest heritage. Here you can enjoy riding vintage cars and have a great experience of seeing the beauty of Neemrana fort.
Entry Fee: On weekdays, you have to pay Rs 1700, and on weekends you have to pay Rs 2000
Hence, this is amongst the famous forts of Rajasthan.
Conclusion
So, here are the 11 forts of Rajasthan. Yet, several such forts will amaze you with their splendor, grace, and charm. So, it is time to book your luxury trip to Rajasthan and enjoy a trip to Rajasthan.